About Second Generation AMD EPYC
2nd Gen AMD EPYC is a new breed of processor that boosts the performance of servers. Modern datacenters with 2nd Gen AMD EPYC processors offer the maximum possible speed and security.
Whether you use enterprise applications, floating-point systems, or have cloud computing environments, 2nd Gen AMD EPYC can significantly boost your software performance.
Here is an image that displays how second-gen AMD EPYC's performance compares with second-gen Intel Platinum 8280. 2nd Gen AMD EPYC outperforms Intel Platinum 8280 in every aspect.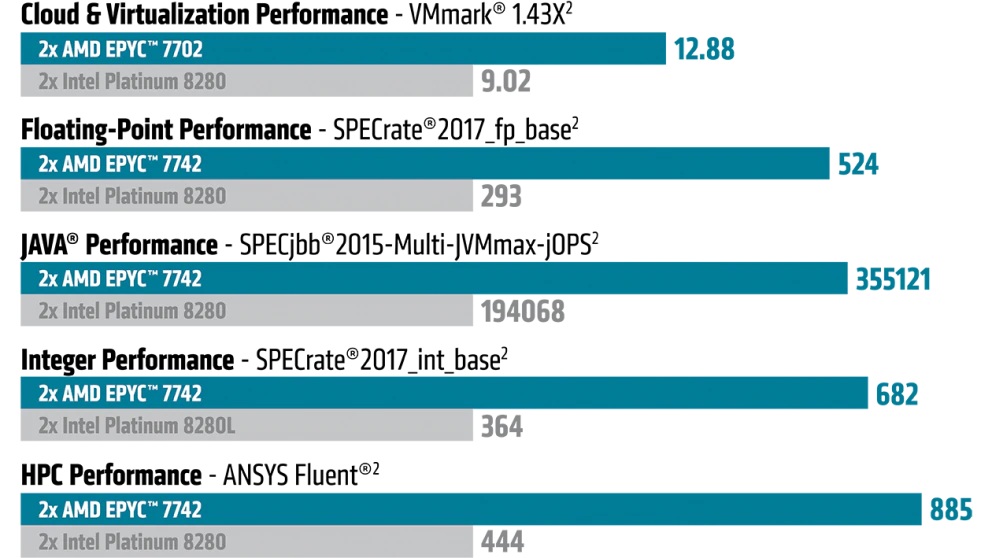 Source
To date, AMD EPYC holds more than 170+ world records. Paired with HostCircle's service and global network, your IT infrastructure will work in ways you could only imagine - until now. 
Here are some more reasons to choose the 2nd Gen AMD EPYC powered dedicated server.
Why Choose 2nd Gen AMD EPYC Powered Dedicated Server From HostCircle?
1- Heightened Privacy and Integrity
2nd Gen AMD EPYC is the first server processor with integrated and dedicated security features. It is packed with Secure Boot, Secure Memory Encryption (SME), and Secure Encrypted Virtualization (SEV).
2nd Gen AMD EPYC powered dedicated server encrypts all the data stored in it. This means any attack on the main memory (e.g., cold-boot attacks) of the server is inhibited.
The processor also includes high-performance encryption engines to ensure high-speed performance. The best part about it is that all this is accomplished without making any changes to your software.
Apart from the in-built security features, HostCircle offers DDoS protection, so you won't have to worry about data theft and focus more on running your business.
How does this benefit you?
You will get a dedicated server that won't be affected by any attack. This means no downtime or risk of data theft.
2- Agility to Choose the Right RAM, Storage, and Bandwidth
With AMD EPYC, HostCircle aims to offer a dedicated server with all the features you need to run your application at the highest possible speed at an affordable price.
It means you can decide the memory you need (256 GB or 512 GB), storage (2x 960 GB NVMe or 2x 1.92 TB NVMe), uplink (4x10 Gbps), and traffic (300 TB).
HostCircle also allows you to customize your dedicated server plan, so you pay only for what you need.
How does this benefit you?
You will get a high-performing dedicated server that meets all your business requirements at an affordable price.
3- First-to-Market PCIe 4.0 Readiness
AMD EPYC is the world's first commercial x86-architecture server processor that supports PCIe 4.0.
PCIe 4.0 is the next evolution, high-speed interface. It doubles the throughput of PCIe 3.0 and operates at 16 GT/s per lane.
How does this benefit you?
It allows you to connect with a higher speed to GPU accelerators and NVMe drivers. Besides, PCIe 4.0 increases a server's data handling capacity to 64 Gigabytes per second by doubling its bandwidth.
This enables your dedicated server to analyze more data effectively (even for real-time insights) and instantly access shared data to get the most out of NVMe drives.
4- One-Socket EPYC Server Advantage
In order to overcome the imbalance of resources, traditional CPUs require you to scale up to a 2-socket server. However, with AMD EPYC at your disposal, you can fulfill all your workload needs with 1-socket servers.
How does this benefit you?
This means you won't have to purchase two sockets like earlier, reducing capital, power, and cooling expenses. It can cut licensing costs by up to 50% with "per-socket software" like vSAN or VMware. This also means that with HostCircle AMD EPYC dedicated server, you get more features at less price.
Here is a table displaying the difference between two X86 Intel processors and one AMD EPYC processor.
Features of Dedicated Server by HostCircle
48 to 72-hour deployment
DDoS protection enabled network (add-on)
Reliability with redundancy
Periodic backups (add-on)
Premium NVMe SSD range
IPMI/KVM access
Advanced Architecture of 2nd Gen AMD EPYC Powered Dedicated Server
2nd Gen AMD EPYC powered dedicated server consists of an advanced hybrid multi-die architecture. It provides the best single socket experience without compromising on cores, memory, or I/O.
AMD EPYC's architecture is divided into two parts with:
Eight dies for the processor cores
One die to support security and communication outside the processor
As a result, 2nd Gen AMD EPYC powered dedicated servers deliver up to 84% higher performance than non-AMD servers.
Create your custom dedicated server with HostCircle today and get a high-performing and secure server at an affordable price along with 24x7 expert support.
- HostCircle BV